Building Surveying Services
Building Surveying Services
Whilst these services are not included within the standard management fee, Scanlans Consultant Surveyors LLP normally quote competitive rates for providing services to the properties we manage.
The Building Surveying services provided by Scanlans Consultant Surveyors LLP include:
Project management of major works. This would include preparation of detailed specifications, drawings, etc. as required, obtaining competitive tenders and project managing the work through to completion.
Fully costed planned maintenance programmes on a rolling basis, to ensure that adequate funds are being set aside each year for future maintenance.
Fire Risk Assessments.
Health and Safety Assessments.
Insurance reinstatement revaluations.
Party Wall Act awards, where required.
These services are also available to non-management clients.
For more information about these services, please contact: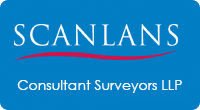 BLOG
Residents' management companies are being urged to ensure fire risk [...]
The safety of your tenants and your property depend [...]
You may be familiar with arranging buildings insurance for a [...]
Need a property management specialist?
Get an estimate on managing your property.