When you're looking for a new place to live, the first question you ask either yourself, a search engine, or your estate agent is – which is the best area to live?
Nobody wants to unknowingly move into an area where there is a lack of amenities, leisure facilities and transport links, or where the crime rate is substantial.
Thankfully, if you're making the move to the bustling industrial metropolis of the Northwest, with our expertise, we can help you find the best places to rent in Manchester.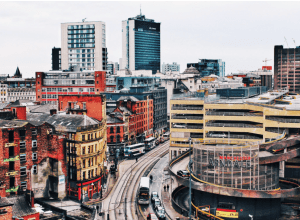 (Source)
Best areas to live in Manchester
Sale
Voted as the 4th best place to live in England as recently as 3 years ago, Sale is a steadfast favourite of one of the best areas to live in Manchester for both first time buyers and renters. 
Containing Victorian detached houses alongside smaller terraced houses, there's plentiful choice of places to rent. What's more, Manchester City Centre is only a 20 minute trip away on the Metro line, making it a convenient choice for commuters. Staying local in the suburb will reward you with a bustling high street and highly-rated schools, so Sale continues to offer the best of both worlds.
A 4-bedroom house in Sale currently has an asking rent of £1,413pcm, but individuals can find smaller apartments and bedroom shares starting at £353.25 per person.
Confused about a recent property management agreement? Find out which are the most essential parts which will affect you in our blog.
Castlefield
Castlefield is hailed as one of the more relaxed and tranquil suburbs of Manchester because of its long canal walks, waterfront bars and even canal-side outside music venue Castlefield Bowl. 
A 6-minute drive from Manchester City Centre or a 10-minute train ride, its popularity is substantial with many young professionals, renters and families being enticed by its tranquility and city access.
Castlefield offers some unique renting options too, including loft conversions that would not look out of place in New York City, to picturesque cobblestone streets and quaint cottages.
The architectural value and overall feel of the suburb means that it comes in at one of the most expensive areas on our list. Affordable options include house-sharing arrangements for young professionals which begin at £381.25, but first time renters may find themselves priced out depending on circumstance by the average £1,037pcm for a 2 bedroom flat.
Best places to rent in Manchester 
Tameside
Tameside is arguably one of the best places to rent in Manchester. Nearby there are some of Manchester's best rated schools, which has made the area increasingly popular with young families.
Just a 30-minute drive from Manchester City Centre, it's a perfect area for those looking to commute or who value nearby leisure facilities. Tameside itself contains a number of green spaces and wide open parks, which ensures a great balance between both city and rural life. Above all else, the sense of community in Tameside is warm, welcoming, and multicultural, making it an ideal place to call home.
Young professionals who may be house sharing can expect an asking rent of £558pcm, which results in a tight budget going a lot further.
Meanwhile the average rent price for a family in Tameside for a 3 bedroom apartment stands at £858pcm (correct at the time of writing).
Wigan
Two-time winner of "The Happiest Place in Manchester" award, Wigan is one of the best, and cheapest places to rent in Manchester. A one bedroom flat currently averages at around £435pcm which makes it a fantastic option for those who are on tighter budgets.
Wigan is diverse in its renting options too, ranging from affordable flats, spacious apartments and even tree-lined streets with gorgeous period houses. Manchester City Centre is around a 49 minute commute from Wigan, which could be the only drawback for those looking to have everything on their doorstep. However, Wigan itself offers an abundance of leisure facilities and transport links, including a 43 minute drive from Manchester Airport.
For those looking to rent larger properties, the current asking price for a 4-bedroom house in Wigan is just £755pcm, which makes it a great option for growing young families.
Best buy to let areas in Manchester
Rusholme
Just off of the M14 corridor, Rusholme has been credited as one of the best buy to let areas in Manchester for property investors. 
Rusholme is credited as a nice place to live, and it's popular with University students because of the nearby educational facilities. Average property prices in the area are £170,000 and university students who opt not to stay in halls tend to gravitate towards the terraced houses of Rusholme.
If you're interested in buying, buy to let property in Manchester, it's recommended that landlords and property owners carefully assess how convenient the property will be for tenants. Many investors will offer competitive benefits, so it's best to ensure the standard you are planning to offer compares well against competitors in the market.
Residential block management is changing in the wake of the COVID-19 pandemic. To find out which changes you can expect to see, read more in our blog.
Levenshulme
Named as one of the best places to live in the UK by the Sunday Times as recently as 2019, Levenshulme is beginning to surge in popularity due to its lively food scene and close community feel.
A 12 minute drive to Manchester City Centre or a 24 minute bus ride also means it's a great choice for young professionals. Due to the effects of the 2020 pandemic, city-centre renters are preferring to move out of apartments to favour larger properties with outside space in boroughs like Levenshulme.
Young professional residents whose budget can not stretch to either Chorlton or Didsbury prices are also gravitating toward Levenshulme instead, resulting in the area having seen a 22% increase in house prices since 2017. Such substantial growth has resulted in prospective yields being eaten into somewhat, but the ever-increasing popularity of the suburb still means that careful investors could easily achieve 5-6% returns.
Up and Coming Areas in Manchester
The Millennium Quarter, Manchester City Centre
Despite its magnificent name, the Millennium Quarter actually remains an unknown side of Manchester, but one that is deserving of being hailed as an up and coming area.
Since the IRA bombings in 1996, the quarter has undergone intense redesign and renovation, which has resultef in it becoming one of the fastest growing residential property markets in the city. Its closeness to the city and travel links to both Piccadilly and Victoria Stations also make it a desirable place for commuters and young professionals, whilst amenities such as a great restaurant, pub, and gym scene are also helping.
Those who are carefully managing a budget can also benefit from rent prices in the Millennium Quarter which begin at around £600pcm for a spacious one bedroom apartment.
Apartments come with property service charges. Need to know what those are? We've got you covered.
Radcliffe
Previously a heartland of the North's industrial boom, Radcliffe has undergone a transformation from its previous paper-mill deluged history.
Spacious rows of great value for money Victorian terraces and new estates are making the area  more affordable, and subsequently more attractive, for younger families, which has recently seen it coined an area property investors should watch.
Transport links including a reliable bus network and easy links to the M60 and motorway networks are also making it desirable for commuters.
The average four-bedroom rent price here will result in under £997pcm, so it's easy to see why estate agents in the area are seeing houses snapped up.
At Scanlans Property Management we have years of experience supplying property owners and residents within Manchester with residential block management support and services. If you are looking for help with any aspect of your residential block management, including administration, site visits and building surveying services, contact us today.