In the United Kingdom, a fifth of greenhouse gas emissions can be attributed to domestic housing.
Thankfully today there is a renewed focus on saving the planet through making environmentally friendly changes and using sustainable materials wherever possible.
But property managers, property owners, landlords and apartment block residents should not feel they are unable to contribute. Whereas previously how to make your apartment green would have resulted in suggestions for paint changes, today there are a number of significant changes that property managers can implement to make apartments sustainable and environmentally friendly.
Changing your residential block to be more environmentally friendly not only helps the environment, it can also be an appealing factor for new residents, and it saves both you and your residents money.
Here are 8 easy ways residential block managers, property owners and landlords can make sustainable changes today.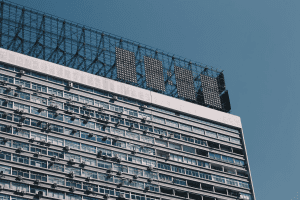 (Source)
1.   LED Lighting
In 2021, LED light bulbs are a cost-effective and environmentally friendly must-have option.
LED bulbs only use 2-17 watts of energy, last 10 times longer than fluorescent bulbs, keep cooler, are more durable to adapt to significant temperature changes (i.e in a South facing hallway that may receive heat during the day, but become cold quickly in the evening) and are also mercury free.
LED bulbs could be implemented in communal hallway lights, in lights in communal areas such as lounges and kitchens, in external security and walkway lights and in residents' properties.
2.   SMART applications
New digital technologies, alongside the Internet of Things, are changing the property management industry and are leading the way for environmentally friendly SMART applications.
SMART thermostats, such as Hive heating, help to reduce energy consumption by allowing property managers to program when properties are heated. This helps to conserve energy by only heating a property when it is necessary to do so, which also reduces energy bill costs for both residents and property owners.
Schedules can be organised around routines, too. For example, if a majority of residents commute from 8am and return home at 5pm, a schedule could be organised that heats the property from 6-8am and then from 4pm onwards. If some residents do remain in their properties throughout the day, a separate schedule could be arranged that boosts the heat at certain times of the day.
Find out how the Internet of Things is changing the Property Management Industry.
3.   Eco-friendly drying alternatives
Tumble dryers can use anywhere between 1800-5000 watts of energy which makes them one of the most energy consuming appliances in a property.
Tumble dryers should therefore be double checked for an energy efficiency rating of 7 stars and above. Residents should also be advised to check for dryness at regular intervals and to stop a cycle and remove dry clothes when they are ready rather than depending on automatic programming. Maintenance teams should be instructed to clean the lint trap and double check any dryer vents are not blocked.
Sustainable choices are just one of the block management trends expected to surge in 2021. Find out the others here.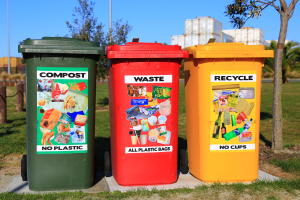 (Source)
4.   Recycling bins for glass, paper and cardboard
Property owners, managers and landlords can acquire recycling bins for glass, paper and cardboard from local district councils to encourage residents to recycle.
Recycling has a huge impact on the planet as it can save on carbon emissions, save energy and reduce the demand for raw materials which conserves natural resources.
So that they are aware of the importance of recycling, residents should therefore be instructed on how to use the bins, and on which items they can and can't recycle, as well as what to put in each bin and when the bins are collected.
5.   Insultation
Insulation can make a significant difference to the sustainability of a property by reducing its energy consumption.
Poor insulation can waste energy through drafts and cracks in badly built, or poorly insulated buildings. Property managers can assess a property's structural integrity with a site visit, which should identify any insulating problems that need to be fixed on a structural level.
As well as making insulating changes, such as adding insulation to lofts and inside roofs, double glazed windows can also save up to 50% on heating. Double glazed windows prevent heat loss through windows because of their additional pane, and they also prevent drafts from escaping through the window and the frame.
Installing double glazing where possible is advised, but in the meantime property owners, property managers and landlords should try to regulate temperature fluctuations in order to reduce wasted energy and save on consumption.
6.   Choose renewable energy
Renewable energy sources such as wind power and solar panels are becoming increasingly popular in the twenty-first century.
Solar panels are now able to be installed on properties in the UK, but they can be a costly investment and a significant adjustment to begin with. If you are a property owner or manager that can afford to make the change, it is recommended, but residents should be advised in plenty of time so they are prepared for increased service charges and for the switch.
If you are unable to switch to solar energy just yet, there are a host of energy providers in the UK who use renewable energy sources to get their electricity. In the UK, options include:
Ecotricity: Ecotricity emerged as early as 1999 and has been recognised as using 100% sustainable energy by the Vegan Society.
Bulb: Bulb are the UK's renewable energy supplier, but have fast become the biggest by boasting the cheapest renewable energy on the market.
Ebico: Ebico work alongside SSE and was founded in 1998. They're currently the UK's only not-for-profit energy company.
Octopus energy: Another newcomer, Octopus Energy are the UK's largest investor in solar energy. They've seen huge surges in popularity due to providing fair prices.
In summary:
If you are looking to make sustainable changes to your block and reap the benefits, we at Scanlans Property Management have years of experience in supporting property owners with residential property management services.
We can provide advice on health and safety requirements, as well as specify and arrange regular and specialist maintenance such as those of SMART meters. Get in touch with one of our specialist team today.