Block Management requires a plethora of skills that beginners to the industry may not immediately envision.
In their day to day role, block managers could expect to be in charge of maintenance, resident relationships, organisation and administration, which are all areas that present unique situations that block managers must know how to handle.
But what are the key block manager skills that new block managers need to know as they embark on a successful property management career? We've listed the fundamental necessities below.
Related Reading: It's not just block managers who need enhanced skill sets. Find out what block management companies need to provide good service here.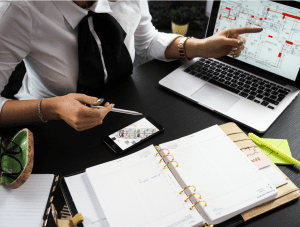 (Source)
1.   Strong, clear communication
Block property managers are always communicating. On a daily basis a block manager could expect to be in touch with property owners, landlords, residents, contractors, and other members of their block management team.
This constant communication means that block managers must know how to effectively communicate in order to deliver messages, coordinate information, and even deescalate scenarios.
Communication doesn't just relate to verbal or written expression however. Block managers must be seen to have open lines of communication at all times as they are often the first point of contact for residents, property owners and landlords. So, when a block manager is unavailable it's just as imperative to ensure that there is a way of reaching them. To this extent, a piece of software like an online resident portal that allows residents to find information, leave messages or pay their rent is a worthwhile communication investment as it keeps an open line to the block manager at all times.
You can read more of our block management software recommendations in our blog here.
2.   Exemplary customer service
For all intents and purposes, a block manager is a customer-facing role. This is why it's essential that all block managers have good interpersonal skills and an affinity with customer service.
At its heart, customer service means being present and able to handle enquiries and solve problems as effectively and efficiently as possible.
So, to this extent good block property managers make themselves available to residents, property owners, landlords and contractors at all times. To provide skillful customer service, they should be able to answer questions about the block and resolve issues immediately by taking the necessary steps and keeping their customer informed at all stages.
Skillful residential block managers prioritise people over responsibilities and often see benefits in better client retention levels.
3.   Exceptional organisation
Block property managers are always multitasking. Whether it's answering resident queries, completing administrative tasks, organising contractors or managing repair requests, block managers will be juggling several tasks simultaneously which requires exceptional organisational skills.
Well organised residential property managers will know to implement procedures that enable them to streamline their workloads so that they can juggle multiple tasks without feeling under pressure or frustrated. In block management, a defined list of duties and an organised checklist comes in particularly handy.
4.   Flexibility and Patience
Block property managers need to be able to call on a range of personality and character traits to be able to effectively manage different situations.
For example a situation with a late paying resident may need a more assertive approach, whereas the resolving of a serious maintenance problem may need patience and flexibility.
Patience is perhaps the most important trait of all for block managers as they'll often fall back onto it. When managing situations like stakeholder expectations, property owner requests, maintenance issues or residents who have a problem with payment, patience can go far in the successful resolution of the issue.
Flexibility is also a useful skill to possess as it will enable block managers to maintain a balancing act of professionalism and tact when faced with challenging scenarios.
5.   Tech-savviness
Tech-savviness may not seem like a necessarily important skill but in an era of digital transformations, any block manager must be able to keep up with an industry which is quickly adopting more and more digital practices.
The internet of things has changed block property management substantially with the use of new technologies which enable residents to set eco-friendly heating, and items like communal lighting which is able to be srt for particular times depending on the season and the routines of residents has enhanced safety profoundly.
These changes all impact the skills that block managers must master as good block managers will know that new technologies create additional value and convenience for both themselves and customers.
You can read more about how the internet of things has changed the block management industry forever, here.
6.   Base level legislative knowledge
The first person both residents and property owners will go to with problems or queries relating to their block is their residential property manager.
This means that block managers must fall back on an entirely new and learned skill which is knowledge of legislation including housing and health and safety.
As legislation is constantly updating – as it did with the outbreak of COVID19 – block property managers must also stay up to date on the latest developments and relay these to property owners, stakeholders and even residents.
To this extent, block managers should also be skilled in research as if they are unsure of the answer, they'll need to do their homework to provide one as quickly as possible.
7.   Base level Maintenance
Base level maintenance may not seem like an important skill for block managers but when it comes to organising repairs and overseeing maintenance requests, it becomes almost imperative.
Residential property managers will not need to have an enhanced technical knowledge about properties but they should possess an initial understanding of how blocks function.
This is necessary because alongside effectively communicating issues with repair and maintenance contractors, block property managers will also need to write up documented inspections and anticipate both typical and expected problems at their properties. Therefore, a base level architectural and technical know-how is a key skill block property managers should hone.
Looking for skillful property managers?
At Scanlans, we bring a wide range of skills, in-depth knowledge, experience and utmost professionalism to block management. All of our block managers are members of the Royal Institution of Chartered Surveyors (RICS) and the Association of Residential Managing Agents (ARMA) which means we operate to the very highest standards in the industry.
If you're interested in finding out more, read more about our block management services here, or request a call with us today to find out how we can support you.