Utilising the best property management software can be a lifeline for residential block management companies.
For a start it can make mundane, time consuming tasks redundant by automating them, and it can make other tasks, such as handling resident payments, seamless.
But sometimes finding the right software can feel like finding a needle in a haystack. With so many vendors and software platforms out there, how can a block management company be sure that they're using the software that best fits their needs?
To begin with it's advisable to do some research, both on the software and on the needs of the company. Identifying a list of block management tasks that take up significant time and that the company would love to streamline is a great place to start. As is calculating the monetary cost of what this automation could save the business annually.
Having this information can help to provide a useful list of requirements when it comes to choosing and evaluating the correct software..
Related Reading: The 5 Ways Block Managers Can Provide the Best Service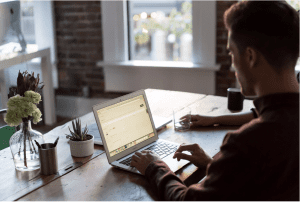 (Source)
What does Property Management Software do?
To be clear, the purpose of property management software is to help residential block managers, landlords and other property management professionals undertake day-to-day tasks involved in residential block management. The software can help with maintaining resident records and leases, payment collection and tracking and resolving maintenance issues.
It has a wealth of notable benefits including:
Resident and Agreement Tracking: Helps residential block managers to accurately record resident details including their contact information and payment details, as well as their agreement terms and dates.
Maintenance Management: Enables residents to submit maintenance and repair tickets, which allows block managers to assign the work to contractors and keep track of the progress in order to ensure the maintenance works and repairs are completed quickly.
Accounting: Allows block managers to monitor rental payments and can generate necessary financial reports.
Resident Portal Access: Enables residents to pay their rent, make maintenance and repair requests and communicate with block managers at any time. It can also send notifications to residents from block managers who may be requesting a meeting, notifying residents of changes, or passing along other important information. At Scanlans, we utilise this by giving our clients access to a My Scanlans portal where they can view a wealth of information.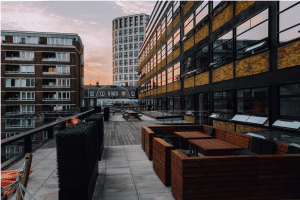 (Source)
Advantages of using Property Management Software
Alongside the benefits of using property management software, it also offers significant advantages for residential block management companies themselves. Using software allows block managers to:
Be more time-efficient: Through the automation of time consuming tasks like updating records or handling financial transactions, block managers have more time to perform other duties like site inspections, holding feedback meetings, resolving resident issues or following up on maintenance works.
Offer convenience: With the Internet of Things making everything around us digitised and therefore more accessible – such as updating the temperature of central heating from a mobile phone app – residents will also view access to an online portal as an added benefit. It adds convenience to their day by enabling them to make payments quickly, and gives peace of mind that there is always an open line of communication between themselves and their block managers. It's another reason that at Scanlans, we place communication at the heart of everything we do and give our clients around the clock access to a dedicated block manager.
Gain clearer oversight: Analytics and reporting tools found in property management software allow block management companies to gain better understanding of their data, which could enable them to make business decisions that benefit their bottom line and boost their financial performance, especially if they are able to identify trends.
5 Necessary Property Management Software Features
There are five essential features that residential block management companies need to look out for in their block management software. They are:
Accounting
Budgeting and Forecasting
Building Management and Maintenance
Resident and Agreement Tracking
Tenant Portal Access
These five features are vital because they assist the most with the day-to-day tasks of block management companies. Without these features, the block management company is unlikely to see significant changes in efficiency or productivity.
We've detailed what exactly to look out for in each one of these features:
Accounting
In property management software, accounting features should work similarly to any other financial accounting software. Key aspects to look out for include:
The ability to keep numbers accurate, timely and up-to-date in clear daily, weekly, monthly and annual views
A general ledger
Dashboards and forecasts that offer holistic views of expenditure and profits
Reporting facilities that can be presented to stakeholders, or used for internal meetings to identify opportunities or trends
Budgeting and Forecasting
Budgeting and forecasting features in property management software should ultimately deliver value to block managers through producing accurate projections and forecasts regarding maintenance and property costs. Key budgeting aspects to look out for include:
The ability to centralise all current financial information and historical details
The ability to produce accurate projections and forecasts
Various detailed reporting facilities that can be presented to stakeholders
Building Management and Maintenance
Building management and maintenance features are arguably the most important aspects of property management software. Functionalities must include:
Ability for residents and block management company staff to submit, track and monitor maintenance and repair works
Ability for residents to report an array of issues ranging from structural to pest control.
Online portal access where residents can contact their block manager, submit a ticket, or pay their rent
Ability to assign maintenance and repair tasks to pre-approved contractors with automated progress tracking and reports
Resident and Agreement Tracking
Resident and agreement tracking is another key element of any property management software as it organises and tracks vital information regarding residents and lease agreements. Functionalities to look out for include:
A clear database or dashboard able to record information about the tenant, their agreement terms and contact information
Ability to store information regarding payments, past due payments, payment terms and conditions
Ability to view crucial lease dates and other necessary information
Tenant Portal
Online tenant portals are a beneficial feature of property management software because of the convenience they offer to residents. Functionalities of tenant portals should include:
Ability for the resident to communicate with their block managers at any time of the day
Ability for the resident to update their contact information
Ability for the resident to pay rents and other fees
Ability for the resident to submit maintenance requests
Ability for the resident to view their agreement documentation and any other relevant documents
Property Management Software Costings
Property management software pricing is usually based around the following factors:
How many apartments or properties are managed
How many applications and features are needed
How the system will be deployed (i.e cloud-based)
Software suppliers will usually charge per apartment or properties per month, but there may be other minimum monthly costs depending on the size of the portfolio.
Costs could also vary depending on how the system will be hosted or deployed, for example whether it will be on the premises or hosted in the cloud by the supplier.
Other hidden costs to be aware of include:
Additional bolt-on modules that may not be automatically included in upfront plans
Implementation fees to help the supplier initialise the software (such as cloud hosting)
Training costs to ensure block managers and residents are able to use the system effectively
API access to allow for personalised customisation of the software depending on the residential block management company's needs.
In Summary
Finding the best property management software for the residential block management company should be fairly straightforward provided the company understands what it needs from a platform. Checking the list of essential features alongside their functionalities is the best way to ensure that the needs of the company align with the accessibility options the software provides.
At Scanlans Property Management, we ensure we're using software that ticks all the boxes. Our clients have constant access to a dedicated and knowledgeable block manager, can log in to find information regarding the management of their property in our portal, and are safe in the knowledge that we provide a timely and professional service with access to all information needed. Find out more about our residential block management services by clicking here.