For a block manager, the new year is a good time to carry out inspections and ensure that all your properties are up to standard, as well as review your processes and set some new year's resolutions so you can improve your services.
At Scanlans, we're experts in block property management. So, we've put together the ultimate block managers new year's checklist, full of tasks to get your year off to a great start.
You Might Like: The 7 Key Skills That All Block Property Managers Need
New Year's Inspection Checklist For Residential Block Managers
The new year can be a great time to do block inspections, as you can accumulate all your inspections in one go (rather than having to organise multiple inspections throughout the year). If you decide to go ahead with a new year's block inspection, here are some of the key tasks to add to your checklist.
Exterior Property Checklist
A great place to start is with the exterior of the block. This is important not only for the aesthetic of the building but also for safety. You never know when an issue may arise, so it's best to make sure your property is always in good shape and up to current codes.
Here are some key exterior property maintenance tasks that should be included on your new year's block management checklist:
Check all communal areas, including bins and fire safety points for damage
Test exterior lights
Check walls and paint for cracks or signs of damage
Check the roof for damages or safety issues
Check all other exterior block features like pipes, windows, drainage
Plumbing Checklist
Plumbing is a key factor when it comes to block checks. This will ensure that all systems and appliances run well during the year. Here are some key tasks to put on your checklist:
Check for leaky taps and toilets
Test for drains that take a long time to drain, including the kitchen sink, shower/tub, and all bathroom sinks
Check for leaks in ceilings or walls, check under sinks for dirt or watermarks.
Check that all thermostats are working properly
Confirm that the hot water system is in full working order
Electrical Checklist
Last but not least, you need to be checking the electrics in the block. This is vital for the safety of your clients, tenants, and yourself. The following electrical checks should be included in your new year's inspection checklist:
Check all light fittings
Check that electrical appliances are working correctly
Inspect the water heater and fire alarms, ensure you have a valid certificate for both
Confirm that there is no damage to switches or sockets
Confirm there are no exposed wires or cables on the property
Related Reading: 8 Ways To Tell a Poor Block Property Management Company
New Years Resolutions Checklist For Block Managers
With the new year, many of us are determined to make resolutions. For block managers, this might include a variety of things. Here are some of our favourite resolutions to add to your new year's checklist!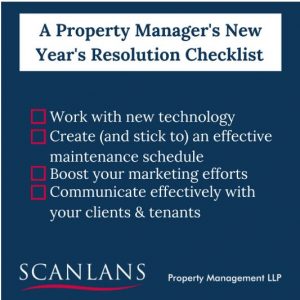 Resolution 1: Work With New Technology
Technology is a vital tool for modern business management. Modern block managers need to embrace technology and use it as part of their daily tasks. It might seem daunting at first, but it will become second nature in no time!
It is also a good idea to invest in property management software or systems to keep you connected to all clients and tenants. You can utilise software or an app that allows for seamless contact between you and your clients and tenants. Make sure that all of your management software integrates well with the systems you have in place.
If you're a smaller company, it might be a good idea to invest in a website that can seamlessly list your properties and their specifications. This will attract a larger audience and ensure that your clientele is getting the best service.
Resolution 2: Create (and Stick To!) a Maintenance Schedule
Creating a maintenance schedule that is dedicated to the properties you manage is vital for great block property management.
A key part of making your schedule is that it should be realistic and follow good time management principles. Once you have created your schedule, the next step is to stick with it! Dedicated maintenance schedules will save money, time and stress for everyone.
Resolution 3: Boost Your Marketing Efforts
Every property manager knows that effective property marketing is vital for getting new tenants. There are many ways in which you can boost your marketing efforts. A simple way to do this is by ensuring that all your properties have updated numbers, identification and contact details.
It might also be helpful to start using social media platforms in order to increase exposure of your company's properties. An important part of marketing is making sure that you have a variety of marketing tools at your disposal, as this will help keep things fresh and exciting!
Resolution 4: Communicate Effectively with Your Clients
Finally, you need to communicate efficiently with all of your clients, tenants and contacts. Communication is vital for block management in order to ensure that everyone knows their part when it comes to looking after the block. Ensure that every party involved has access to up-to-date contact information so they can inform each other in case anything changes.
Make sure that emails, texts and phone calls are being used to their full potential in order to keep the communication lines open at all times. This will ensure that there are no lapses or misunderstandings when it comes to managing your properties.
Looking For Expert Block Property Management Services?
At Scanlans Property Management, e offer high-quality block management services that ensure our clients are always satisfied and in good hands. So if you're looking for a block property management company, why not get in touch?
Give us a call today if you'd like to see how we can help you and your property!