Recent data from the Office of National Statistics suggests that the private rental sector has grown by almost 63% in the last decade, with more people than ever choosing to rent instead of buy property. This has fueled demand for new blocks of apartments.
Whilst this naturally benefits landlords and property investors, block management companies are also reaping the rewards with more positions for block managers available than ever before.
In an uncertain economy, a Block Manager position is even more desirable because of its job security and vast career opportunities. Those committed to learning and making good career progress can soon branch out into other areas such as Facilities Management, Legal and Surveying roles.
So if you're considering a job switch or a brand new career path, here's an overview of everything there is to know about the role of block managers.
What is a Block Manager?
A block management company, and the assigned block manager, will oversee all the responsibilities involved with managing blocks of flats.
A block manager will predominantly oversee all financial, legal and maintenance aspects regarding the communal operations and health and safety regulations of the property.
What do Block Managers Do?
Block managers will generally oversee key aspects of block maintenance and necessary administration. Areas that block managers oversee are:
Accounts and Support Services
Block management companies provide varying support services. These include general administration support such as arranging meetings to discuss any marketplace or legislative changes, accounting services to pay contractors and collect monies owing, as well as installing and managing property management systems.
Block managers take care of all aspects of insurance policies across a number of different insurance types. These include buildings insurance, communal area contents insurance, employer's liability and public liability, as well as Directors and Officers liability insurance. Block managers responsibilities in relation to insurance involve dealing with a broker in ensuring that full cover is maintained and who usually oversee the management, completion and resolution of any claims.
One of the key duties of block managers is the undertaking of site visits. These visits ensure that the block and its grounds are compliant with health and safety regulations and well maintained. Areas that are inspected commonly include communal areas such as communal gardens and leisure facilities, as well as sitting rooms, corridors and any entrance or exit lobbies.
Health & Safety Compliance
Block managers must keep up to date with changing property health and safety regulations. As part of their role block managers need to ensure essential areas like lifts, gates and stairways are health and safety protected as well as safeguarding lighting, fire risks and asbestos.
Read More: The Complete Guide to Residential Block Management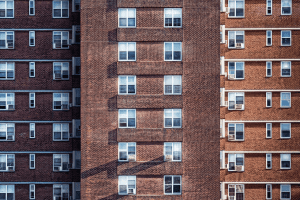 (Source)
What qualifications do block managers need?
No formal qualifications are required to train as a property manager. Most block management companies will willingly train the right candidate in IRPM (Institute of Residential Property Management) and AssocRICS (Royal Institution of Chartered Surveyors) certified qualifications, just as we at Scanlans are committed to doing
At Scanlans, we have a proven track record of training Property Managers who have achieved these qualifications and become Senior Property Managers and Team Leaders.
What skills do I need to be a block manager?
Block managers mostly require good administrative skills, communication skills, and high competency in literacy and numeracy.
An additional bonus is the ability to think quickly, rationally and decisively when under pressure. In block management unforeseen circumstances and problems can sometimes occur at a moment's notice, and block managers should be able to proactively resolve whichever issue arises.
In essence the main skills required are:
Good communication and customer service
Excellent time management skills as well as organization skills
Good interpersonal skills like diplomacy and empathy
Creativity when faced with complex problem solving
Leadership skills
Flexibility and adaptability
What does a block manager's career path look like?
For those brand new to block management, there are entry-level positions that can help candidates climb the ladder to become qualified  block managers.
These positions in particular help beginners because they provide the opportunity to experience and learn a vast array of skills needed within the different aspects of block management. As these skills are transferable, they provide even more help when taking up positions that have more responsibilities.
There is currently an apprentice route which leads to qualification through the IRPM and which we actively encourage our new recruits to follow.
When looking to begin a block management career, the entry level position to apply for is :
Property Management Assistant
Property Management Assistants provide general administrative assistance to block managers through ensuring things run smoothly behind the scenes in the office.
Property Management Assistants typically have the following duties:
Communicate with residents or tenants
Assist the Property Managers where needed
Answering phone calls and replying to emails
Assist with maintenance and repair requests
Assist with managing the company's budget and expenditures
Once a candidate successfully becomes a block manager they can expect to work the hours of around 8:30-5:30, with regular evening meetings with clients and some out-of-hours communication required in the event of an emergency. Salaries can vary from around £20,000 right up to £50,000 depending on experience and the area in which the company is situated. Finally, block managers should also be comfortable with travelling, as they may need to visit many different properties in the company's portfolio.
Interested in either becoming a block manager or having one assist your properties? Schedule a call with us today where we'll be happy to provide you with more information.